What is an Orthotic, and How Long Do I Have to Wear It?
While being treated for TMJ, you may be measured for a custom orthotic. This neuromuscular orthotic works to move your jaw back to its correct position, and make sure that it stays there. 
If you are being treated at TMJ and Sleep Center, you will most likely go through two different orthotics, with the goal of pain relief and gradual correction.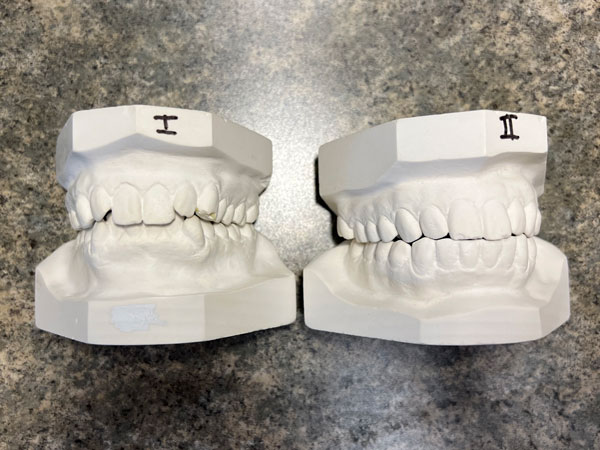 What is a Neuromuscular TMJ Orthotic?
An orthotic is a clear, precisely fitted device that sits on your lower teeth. Similar to a splint, an orthotic is worn to help correct the alignment of your jaw and the muscles around it. However, splints are made with set thicknesses, and generally worn at night. While being treated at TMJ and Sleep Center, you might start wearing a soft splint while your custom orthotic is being made. This approach helps make gradual adjustments and avoids overloading your muscles too quickly. 
Once your orthotic is placed, you will notice your bite feels more comfortable almost immediately. When your jaw is properly aligned, you will also notice an improvement in other functions such as balance and sleep. Your neck, shoulders, back, and whole body will be stronger with this optimized muscle positioning.
How Often Do I Need to Wear an Orthotic?
Once you get your orthotic, it starts working immediately to help your jaw adjust to the correct position. It should be worn 24/7, even when you are eating. It is constantly working to improve your jaw alignment, so it is critical that your jaw completes all of its daily movements with that guide.
You don't have to worry about it showing – your orthotic will be nearly invisible to others. It is not as obvious as braces or a retainer. Knowing your orthotic won't be visible makes it easier to wear in public settings, such as school or work.
How Long Do I Have to Wear an Orthotic?
Generally, treatment generally involves two orthotics. Each phase lasts about four months as long as you comply with consistent wearing. Once your muscles have completed the main adjustment and your bite has improved, you will move on to the second. 
In the second phase, another set of measurements is taken for your next orthotic. The second orthotic will feel different because your jaw has already adjusted so much over the past few months. The goal of the second orthotic is to build on the progress that your first one has made, and finish correcting your bite and everyday movements. 
While it is not a common path, you may choose to get fitted for a permanent orthotic. This is something you can wear throughout your life to keep everything in its place. However, the goal of treatment and your two phases of orthotics is to make it so you won't need an orthotic every day.
Can an Orthotic Benefit Me?
Remember, an orthotic is only a part of your journey. If you are interested in learning how a custom orthotic can benefit you, contact TMJ and Sleep Center for a free cure consult. We will discuss your symptoms, talk about a treatment path, and find out if TMJ treatment is right for you.