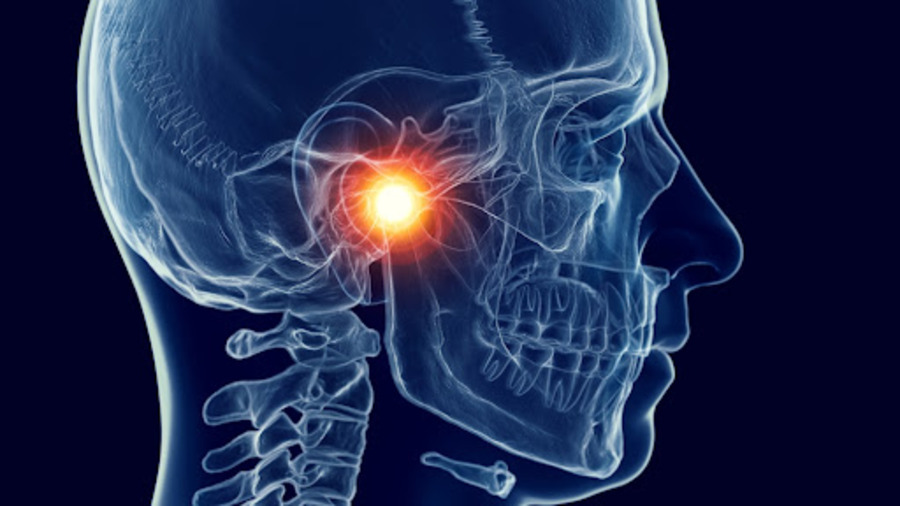 Do you sometimes experience a grinding sensation or an annoying clicking sound when opening and closing your mouth? If so, there is a possibility that you could have Temporomandibular Joint (TMJ) disorder. TMJ dysfunction, often referred to as simply TMJ can be a chronic condition. Many individuals suffer from this painful condition and often feel helpless as to how to treat it. That's why it's essential to become educated about what TMJ dysfunction is, why people get it, and what kind of treatment options are available if you find yourself in this situation. In this blog, we'll explain what exactly TMJ is, explore the signs and symptoms of temporomandibular joint dysfunction, what can cause disorders in this joint, and explain common treatments used for managing pain from this condition.
What is TMJ?
TMJ refers to the temporomandibular joint. This joint acts as a sliding hinge that connects your jawbone to your skull, allowing you to open and close your mouth, as well as move your jaw from side to side. When we ask the question, "Does everyone have TMJ?" the answer is technically yes: everyone has this joint. However, not everyone has TMJ dysfunction. TMJ dysfunction is a condition that affects the jaw joint and the muscles that control its movement. When this joint becomes inflamed or damaged, it can cause pain, stiffness, and difficulty chewing or speaking. TMJ dysfunction is a genetic predisposition of a lower jaw position to the skull. Living your life through your face means using your jaw thousands of times a day in a dysfunctional manner. This creates muscle dysfunction in the face, head, and neck. It is important to seek a TMJ provider if you suspect you may have a TMJ disorder, as diagnosis and treatment can help alleviate the discomfort and improve overall quality of life.
Signs and Symptoms of TMJ Dysfunction
TMJ dysfunction can be a real pain in the jaw – literally. This condition occurs when the temporomandibular joint that connects your jawbone to your skull becomes injured or misaligned. The result is a host of uncomfortable symptoms that can really interfere with your day-to-day life. One of the most common symptoms of TMJ dysfunction is jaw pain or tenderness, but it can also lead to headaches, earaches, and even neck or shoulder pain. Some people even experience clicking or popping sounds when they move their jaw. If you're experiencing any of these symptoms, even to a small degree, TMJ dysfunction may be the culprit. Under normal circumstances, a healthy, well-functioning TMJ will cause no pain.
Causes of TMJ dysfunction
TMJ dysfunction is a genetic predisposition, factors such as stress and trauma, can exacerbate the already existing condition. Other factors that can contribute to TMJ dysfunction include jaw injury. All TMJ sufferers have forward head posture due to the dysfunctional muscles in the head and neck which go into the ribs and back, creating poor posture and upper chest breathing. These underlying causes may lead to inflammation and damage to the joint, resulting in the onset of painful symptoms including neck and back pain (due to forward head position). It's important to identify and measure muscle dysfunction in order to provide the most appropriate treatment plan for those who suffer from it. If your jaw pain is regularly interfering with your daily life, it is likely time to see a specialist at TMJ & Sleep Center to identify the cause of your pain and determine a treatment plan.
Treatment Options
There are a wide variety of treatment options to relieve your TMJ dysfunction symptoms and ultimately heal the joint and replace the dysfunction with consistent, repetitive function. The team at TMJ & Sleep Center is determined to help you live a happy, pain-free life. By assessing your symptoms and your lifestyle, we will decide which treatment plan is best for you. This will include wearing an orthotic that keeps the jaw and muscles in a balanced position while adjusting your posture with physical therapy and alternative exercises to help strengthen the muscles in your neck and back and bring the head over the spine.
Overall, TMJ is widely misunderstood. Technically, everyone has temporomandibular joints, but not everyone has TMJ dysfunction. If you suffer from frequent jaw pain, headaches, or difficulty chewing, as well as neck or back pain or trouble swallowing, it may be time to see a TMJ specialist and determine whether or not you have a TMJ disorder. The experts at TMJ & Sleep Center are ready to help you live a more comfortable (and functional) life, so schedule an appointment today to get back on the path of living without pain!